By Courtney Pittman
Believe it or not, constructing a remarkable and viable dwelling can be both a reality AND budget friendly. Determining finishes, home type, square footage, and much more, can help you cut back on costs - while still achieving your home goals. Let's look at some tips and tricks on how to build a home that is well within your reach, like these cost effective house plans.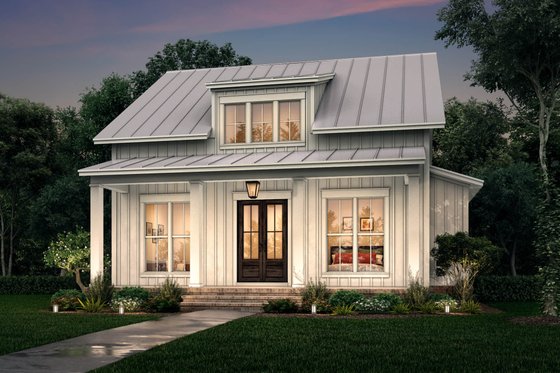 Plan 430-227 gives you a modest square footage and a cute front porch.
Home plan vs. Architect
When building the home of your dreams there are many things to take into consideration - such as deciding whether you want to use an architect (or designer) or build from a pre-designed plan. Many homeowners assume they need to hire an architect to get that custom home they've always envisioned. However, with thousands of designs to choose from, you can find an ideal home that both suits your needs and is pleasing to the wallet.
We asked our director of sales and home expert, Matt Clancy, what the benefits of choosing to use a home plan rather than an architect are and he delivered some excellent advice.
"Architects start with a blank sheet of paper, and often cannot 'share the clients' vision, meaning they may have design ideas that the customer does not like. Choosing a stock plan allows you to look through thousands of great designs that other people have already put together," he explained, adding that, "The costs are considerably less doing it our way. And remember, every plan can be customized to suit clients' individual needs."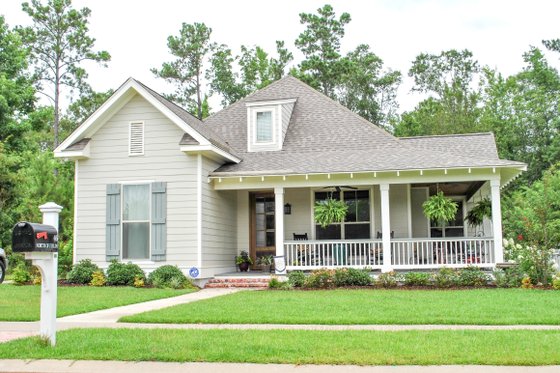 Plan 430-56 presents a simple yet memorable exterior.
Selecting the Right Plan
Maybe you need a two-car garage to accommodate your vehicles easily. Or perhaps you work from home and an extra office space is what you're looking for. Whatever the case may be, selecting an impeccable plan for your lifestyle (while trying to stay in budget) can often be a formidable process. Keep your personal needs in mind and remember them when looking for a floor plan. Developing clear expectations will help you stay on track and search for designs that will work specifically for you.
If you have a lot of land already, "It's important to see if the plan will fit within the building envelope," says Clancy, adding that, "Simple foundation shape, simple rooflines, and not a lot of covered outdoor areas," are all terrific things to remember if you are on a stricter budget.
Another thing to note when selecting the ideal plan is wasted space. It's critical to make sure you find a layout that fits your vision while also making the best use of space possible. Jason Breland of House Plan Zone gave us some suggestions on how to achieve this goal and what to look for in a design. "Circulation spaces are usually the greatest 'wasted space' in a plan. This would mean the hallways or walk paths that connect one room to another. As designers, we try to orient adjacent spaces in such a way that minimizes the travel distances from one to another and thus reduce the overall square footage. If there are 'leftover spaces' it's always a great idea to incorporate closets/storage into those areas."
Decorate on a budget with these ideas from Country Living
Cost to Build
How much will this home cost to build? This is the question every potential homeowner wants to (and should) know before they move forward with the building development. Our cost to build calculator is a great source to aid you in determining just how much money will go towards building your home.
"Using the cost to build calculator will help someone prepare a preliminary budget. Finding out how much it costs to build a house is important, because if you have a $200,000 budget and the report tells you this is a $500,000 house, you know that the plan is too much for your budget, and then we can help you find something more economical," says Clancy.
Learn more about our Cost to Build Calculator to get started.
Be Mindful of Finishes
Selecting the finest finishes for your home can be the most enjoyable part of the building development. However, they can add up rapidly.
"A large portion of expenses for finishes can be attributed to the exterior finishes. It may be tempting to try to cut corners and use cheaper materials, but it's important to keep in mind that these items make up the protective building envelope of your home," says Breland, adding that, "While you may save 20-30% in initial building cost, maintenance or replacement cost[s] in a few years will actually result in higher long term costs. Pay attention to the product warranty, and try to install materials that will be protected throughout the life of your investment."
Another thing to note is that the majority of costs for finishes goes towards bathrooms and kitchens. Breland points out that, "These two areas require the most expensive finishes such as cabinets, counter tops, appliances, tile work, etc. As you are selecting finishes for each of these items it's important to set a realistic budget and stick to it."
The positive news is that, "As building materials are constantly improving, there are many great new products which give you the appearance of much more expensive finishes, but without the added cost."
Simple (and Smaller) Footprint
The more complex (or vast) your home is, the higher the cost will be. One of the most efficient ways to achieve your house goals without the cost skyrocketing, is to opt for a simpler design. This can be obtained through ideas such as an open layout – which allows you to use the floorplan in a variety of ways.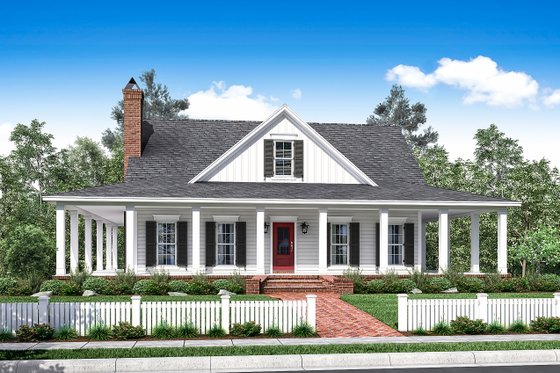 Plan 430-150 is a terrific example of a home plan that offers an uncomplicated design. With the dining room, kitchen, and great room all open to one another, homeowners are able to have flexibility when it comes to arrangements and use of space.
Breland gave us some valuable advice on this topic: "A simple footprint saves the most money because it's easier for the builder to construct. The expression 'time is money' definitely rings true with construction, so a design with multiple offsets will lead to a more complicated roof, framing, masonry, etc. and will thus result in a higher construction cost. The trick in design is finding a balance between what is aesthetically pleasing and economically feasible. We try to add as many architectural elements to the front of our designs to give them the curb appeal that everyone desires, but once you turn the corner to the sides and rear, we simplify the design in order to save the builder time and money which translates into savings for the homeowner as well."
Check out these budget-friendly curb appeal projects from HGTV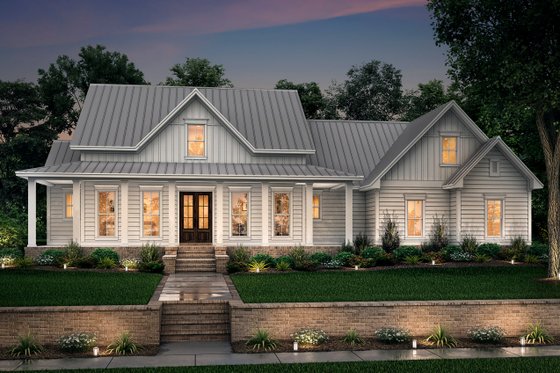 Plan 430-164 features a striking, yet simple, exterior.
Consult a Contractor
Finding an exceptional contractor is an essential part of the building process. You want to make sure the contractor you choose delivers quality work. This can save you cash in the long run because home repairs can be quite costly. We asked Matt Clancy what you should look for and what questions to ask your contractor before taking the plunge. Here are his key points:
Look for builder references

What kind of homes are they used to building?

Will the client be tracking the materials the contractor is ordering for them? This could be a useful cost-savings tactic.

How long will the project take to complete?

How does the builder handle field changes, meaning if the client has a plan but wants to make adjustments during the construction phase?

How much effort does the builder take to make sure they have a good labor crew? Meaning subcontractors, and keeping them to a tight schedule.
Although building a new home can be a daunting experience, we hope these valuable tips will guide you in the right direction and help you build the dream home you've always longed for (without going broke).