How much will it cost to build?
Wow! Cost to Build Reports Only $4.99 with Code CTB2023 (Limit 1)
Plan 310-997
2 garage,
1080 sq/ft,
1 story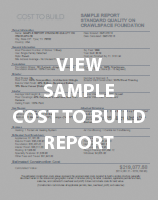 View Sample
It's easy and fast. Just provide some basic information about your project and we'll calculate build costs for your desired location. The report is based on the size, shape, materials and style of the stock house plan you have selected. After checkout, you'll be able to instantly download your report. You'll also receive an email with your valuation shortly thereafter.
After you receive your estimate, we can work with you to adjust material and quality selections to truly personalize your report. HomePlans.com Cost-to-Build reports use up-to-date, regionalized data supplied by Xactware, Inc., a leading provider of estimation software in North America.
Important Note
Actual construction costs for this house may differ from the values shown in the report due to changes in economic conditions, building contractor availability and specific building contractor attributes. Cost-to-Build Reports may not be returned for credit and/or refund under any circumstances.The estimate does not include costs for such items as excavation, land value or detached structures. This information is to be used for budgetary purposes only and is provided on the condition and understanding that it represents only an estimate and that Houseplans, LLC is not responsible for good faith errors.
* Choosing the Premium build quality means your report will be prepared using all premium products and workmanship. This will effectively double the price which is typically calculated for the above average quality.