By Courtney Pittman
These smart house plan designs are great for a wide variety of homeowners. By far our trendiest bedroom configuration, 3 bedroom house plans feature a broad range of functionality and convenience. Work from home? Turn one of the bedrooms into a cool home office. Or, perhaps bedroom number three can be used as a sweet guest room. With thousands of house plans to choose from, we feature a variety of 3 bedroom house plans in tons of architectural styles. Whether you're looking for a modern farmhouse design, Craftsman home plan, or a more contemporary home design, you are sure to find the home of your dreams in our 3 bedroom house plans collection. Get inspired with these best-selling (and new!) 3 bedroom house plans.
Country House Plan with Big Kitchen Island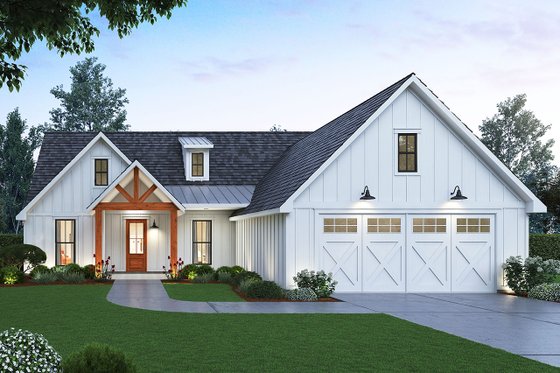 Plan 1074-1
Want a one-story layout that gives you an open floor plan? This 1,814-square-foot modern farmhouse is meant for relaxation. The kitchen showcases a big island for hanging out. Check out the big porch at the rear of the home.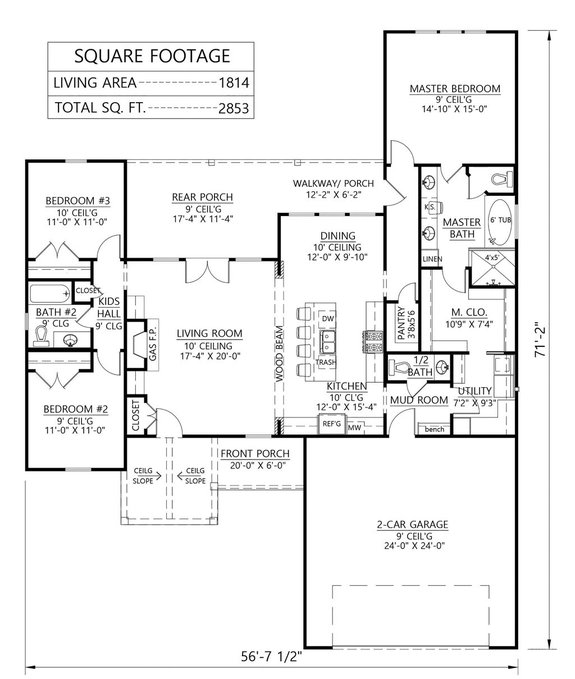 Modern Farmhouse Plan with a Relaxed Vibe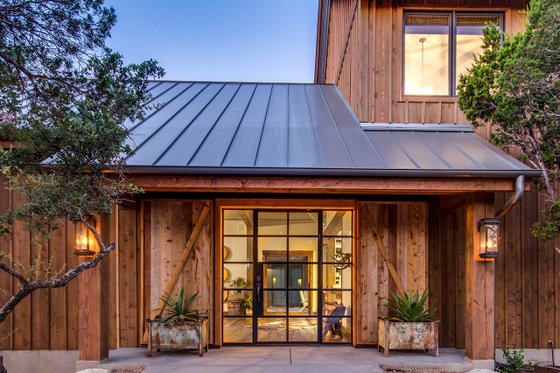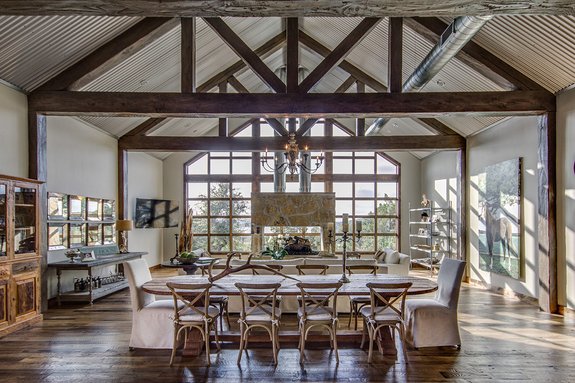 Plan 935-17
Step inside this modern farmhouse plan, which offers excellent flow and a relaxed vibe. This house design is all about style and convenience with a living room that opens completely to the dining area and island kitchen. A stunning wall of windows (above) delivers plenty of natural light and makes the gathering spaces feel bright and open, while a large fireplace delivers comfort and warmth.
Other highlights we love: the generous master closet that connects to both the laundry room and mudroom, the fireplace-warmed master suite, and the cool bar area between the dining space and kitchen. Don't miss the outdoor shower just off the master suite!
Check out these small home bar ideas from HGTV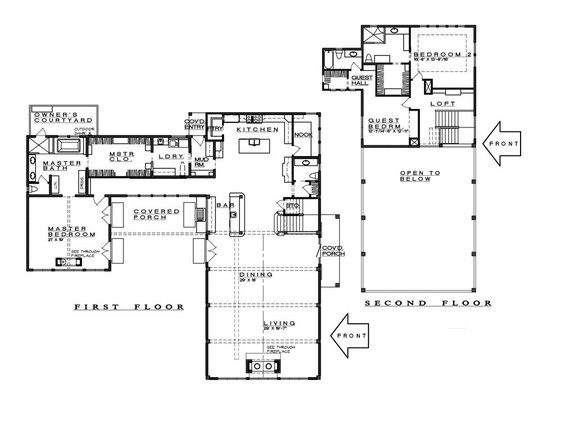 Modern House Design with Open Floor Plan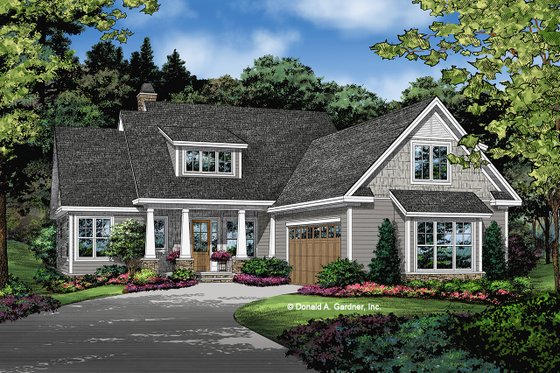 Plan 929-1084
Modern and elegant, this 1,948-square-foot design displays an open floor plan with many thoughtful details. For example, the third bedroom sits near the front and includes two points of entry (one to the foyer and the other to the hallway), meaning that it functions equally well as a home office or sleeping zone. On the left side of the home, the master suite features skylights in the bedroom and a private bathroom with a huge walk-in closet.
The center of the home feels open and kitchen-focused, perfect for relaxed gatherings. A bonus room upstairs adds the possibility of future expansion.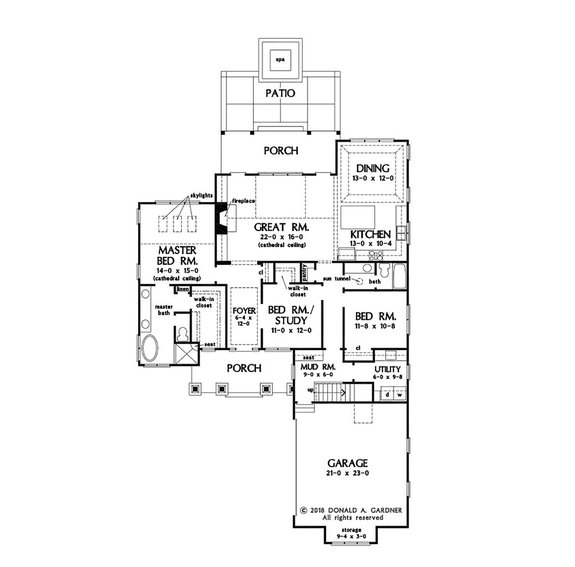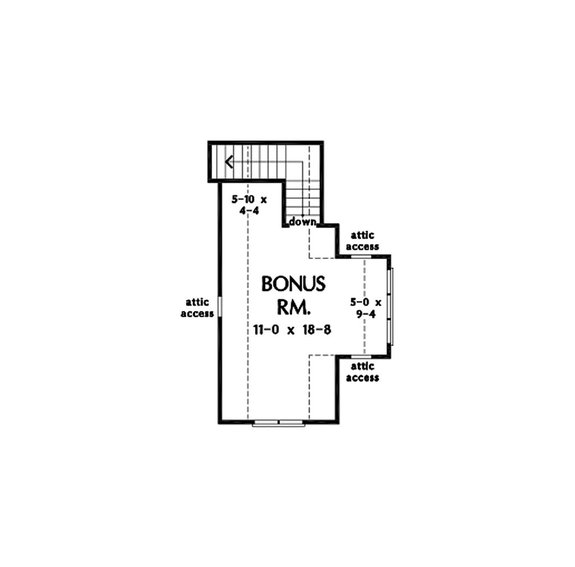 3 Bedroom Floor Plan with Barn Doors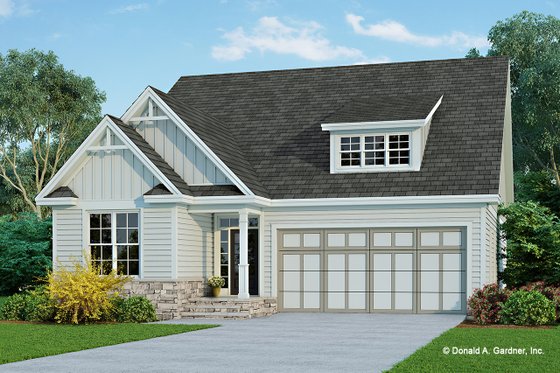 Plan 929-1083
Privacy and togetherness find the right balance in this slim-lot design, which gives the master suite its own corner and encourages everyone to have fun together in the open great room.
The kitchen sports an island and overlooks the open, bright dining area (check out the skylights). Barn doors leading to the secondary bedrooms add a cute, rustic touch. For visiting relatives or an older child, the bonus room can become a spacious suite.
Explore these kitchen island trends from Builder Online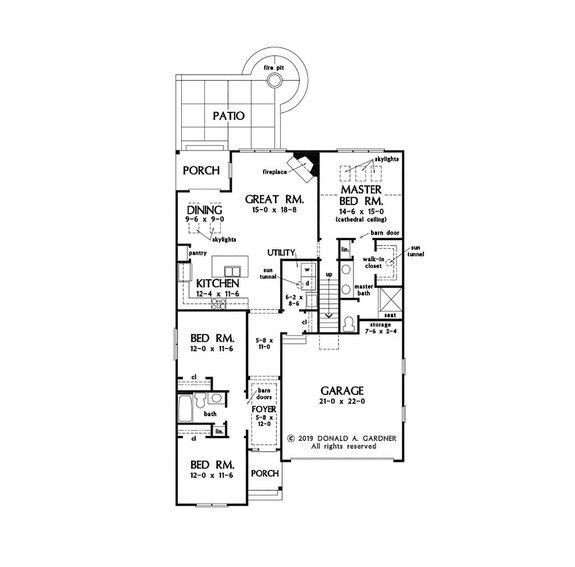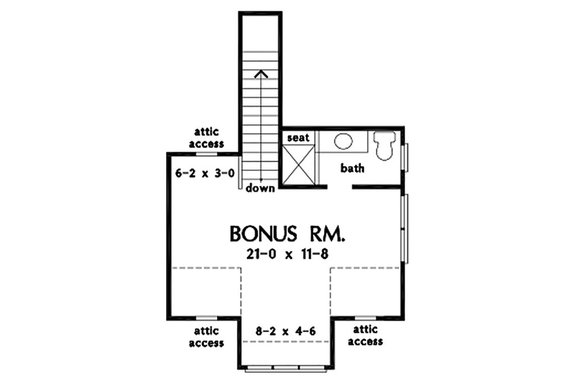 Rustic House Plan with Front Porch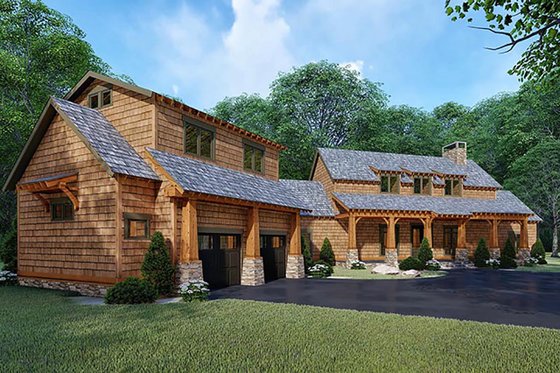 Plan 923-127
Want a spacious plan that's as open as possible? This might be the floor plan for you. Front and back porches encourage outdoor fun, while the central gathering areas flow without interruption from the island kitchen to the dining area and great room. Check out the cool screened porch that features a grilling kitchen and fireplace.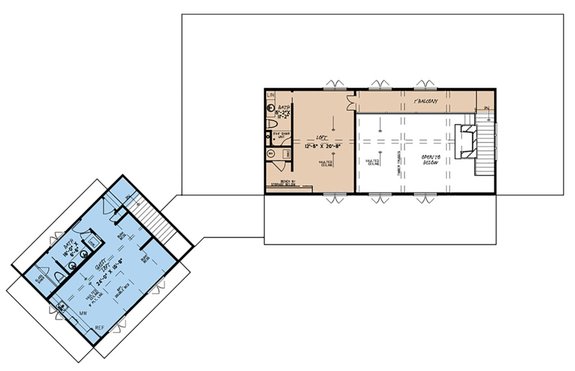 Chic Modern Farmhouse Design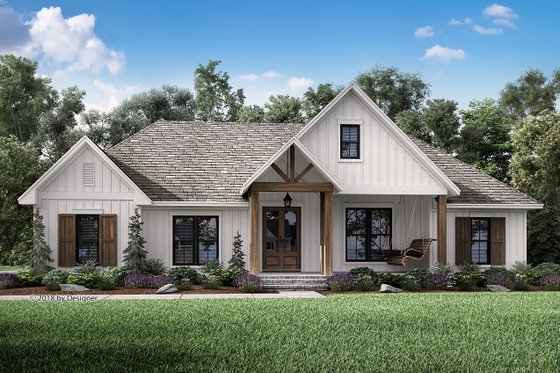 Plan 430-187
This 2,201-square-foot design sports chic modern farmhouse styling and a family-friendly layout. The master suite dazzles with a large bathroom (check out the double sinks and big shower) and direct access to the laundry room through the walk-in closet. Lockers keep the entrance from the garage tidy.
In the middle of the home, the island overlooks the open dining area and great room. A bonus room upstairs adds flexibility.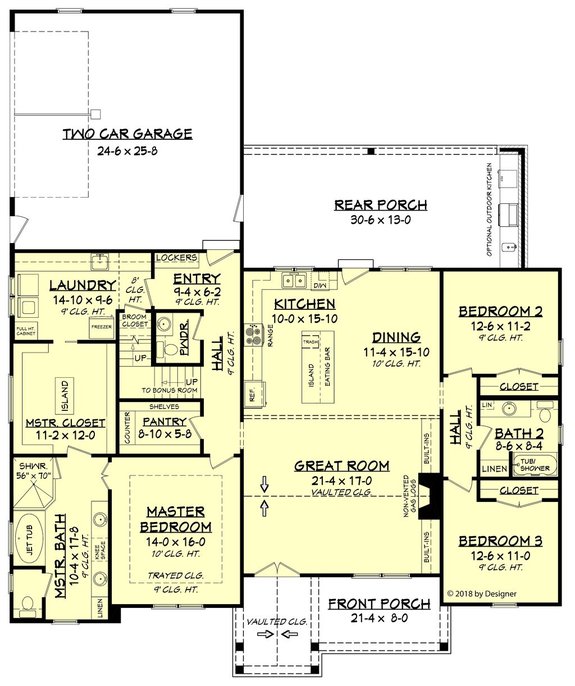 **Timeless Narrow-Lot Plan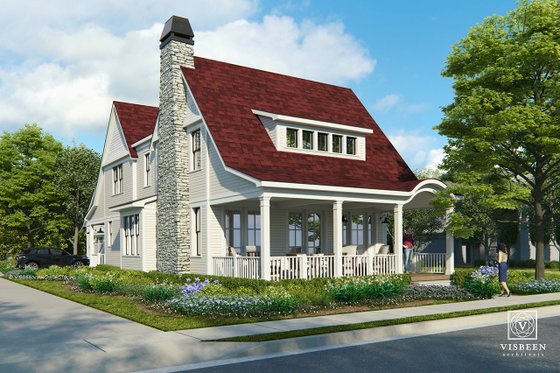 Plan 928-323
Ideal for a narrow lot, the Greenlea by Visbeen Architects gives you timeless curb appeal and a modern open floor plan. The kitchen invites everyone to hang out at the island, which overlooks the dining area and open living room. Need to keep things organized? A handy mudroom boasts plenty of storage. Check out the spacious bedrooms.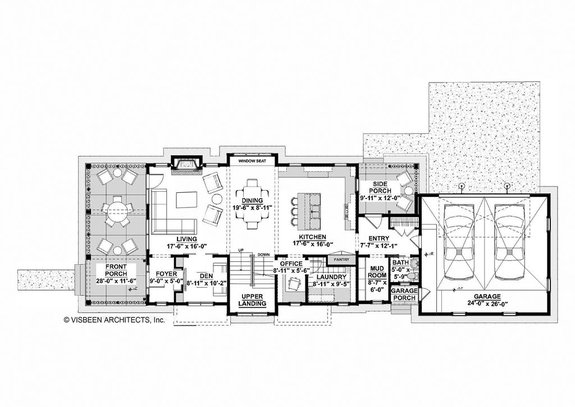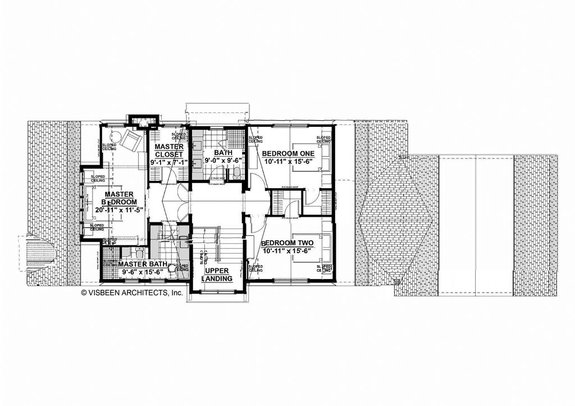 Cool House Plan with Open Layout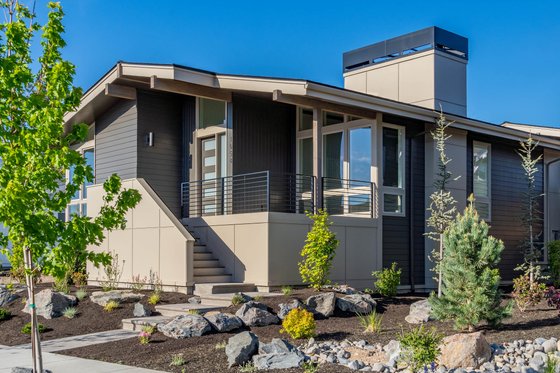 Plan 895-110
Modern and cool, this one-story plan fits nicely on a narrow lot. An open layout between the main living areas makes it easy to host and entertain friends and family. Unlike a lot of smaller homes on the existing home market, this one includes a luxurious master suite with a large shower, two sinks, and a walk-in closet. Another highlight we love is the large kitchen island.

3 Bedroom Floor Plan with Outdoor Living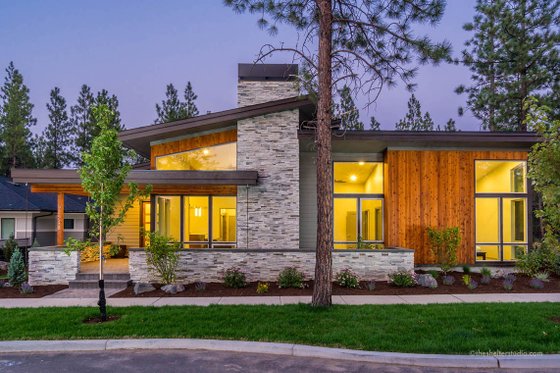 Plan 895-101
Modern design can feel light and bright, as this 3 bedroom floor plan design proves. A courtyard connects to the dining room for easy and immersive indoor-outdoor living. The master suite also steps out to the courtyard. In the private master bathroom, unwind in the big shower and enjoy having two sinks.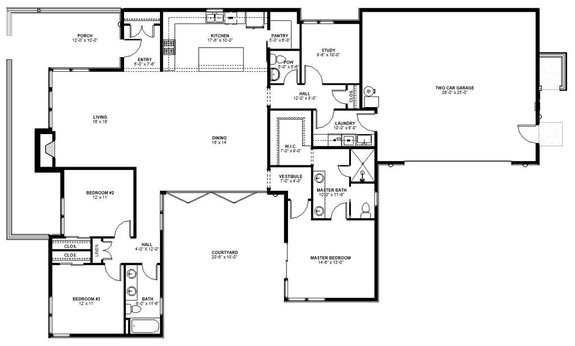 One-Story Modern Farmhouse Plan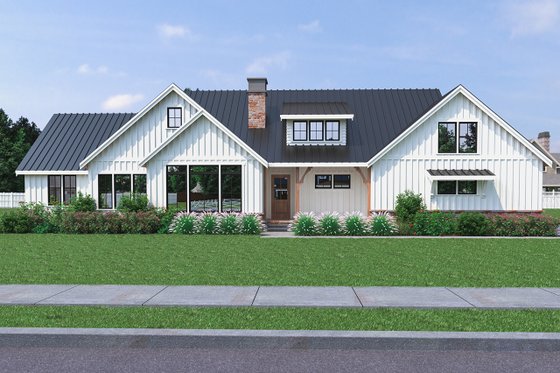 Plan 1070-31
Farmhouse-inspired styling feels perfectly contemporary for this one-story layout. Inside, the kitchen boasts both a large island and plenty of counter space, with the all-in-one dining room within view. Each bedroom sports a full bathroom for extra convenience.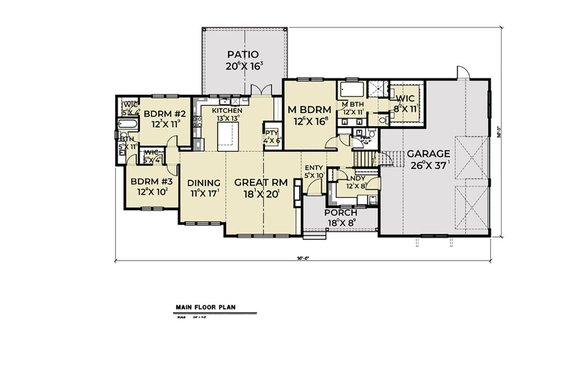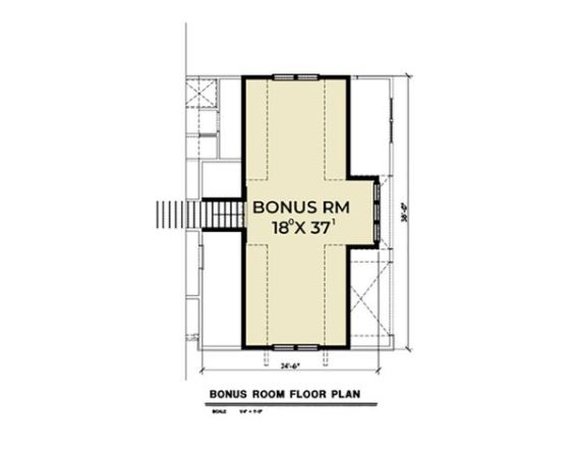 Stylish House Design with Front Porch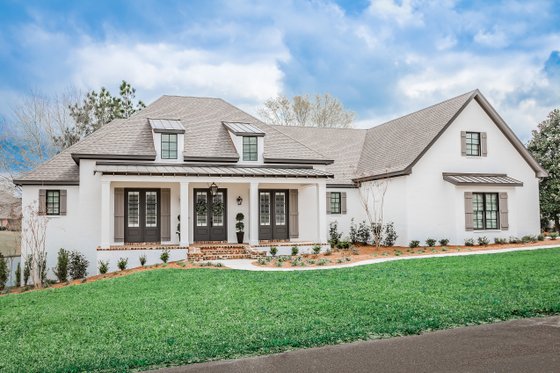 Plan 430-192
Explore tons of photos of this elegant 3 bedroom house plan. Our favorite part? The brick accent walls inside that provide a fun welcome to the large, open kitchen. Or maybe the ultra-luxurious, two-part master bathroom (no sharing!).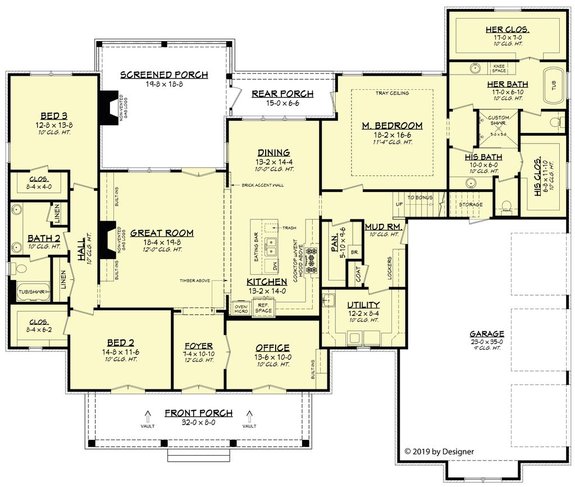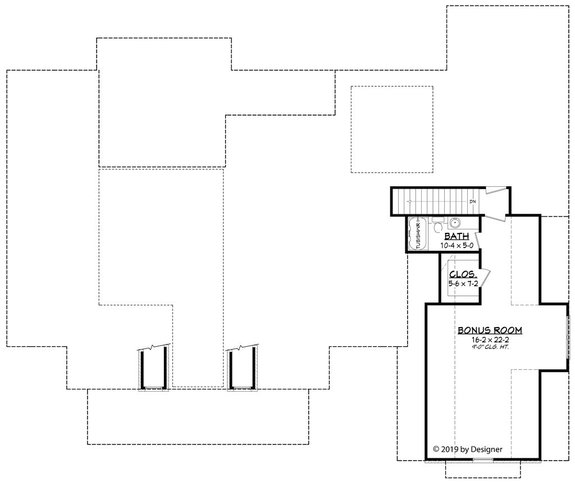 Bright Ranch House Design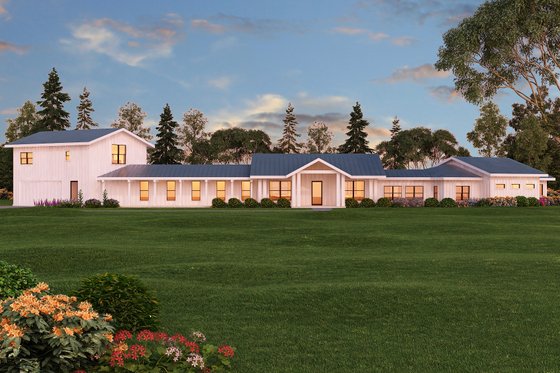 Plan 888-11
This ranch house design gives you an ultra-comfortable master suite on the main floor (take a look at that walk-in closet), plus open gathering spaces. Loads of windows make this 3 bedroom house feel light and bright. A guest suite on this level offers room for visitors, in addition to the full one-bedroom apartment upstairs.

[](plan:888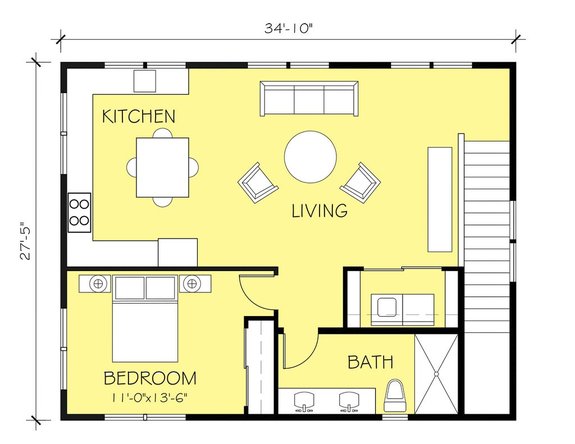 -11)