By: Courtney Pittman
What is it about cozy cottage house plans that we love so much? Maybe it's the charming curb appeal and old-fashioned splendor they bring to the table. Or perhaps it's the charisma that flows from every nook and cranny. Whatever the reason, we just can't get enough of these idyllic dwellings and their adorable architecture.
See more cottage style home designs.
Typically displaying wood or stone facades, gabled roofs, and arched doorways, the cottage boasts a homey style that we are head-over-heels for. These petite house designs bring more to the table than just picture-perfect charm. With open layouts, and spacious front porches, cottages live larger than their sweet size.
We've gathered some of our most popular and beloved cottage house plan designs – you might just find your next dream home!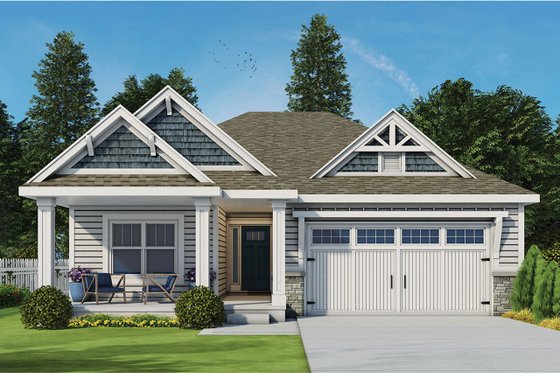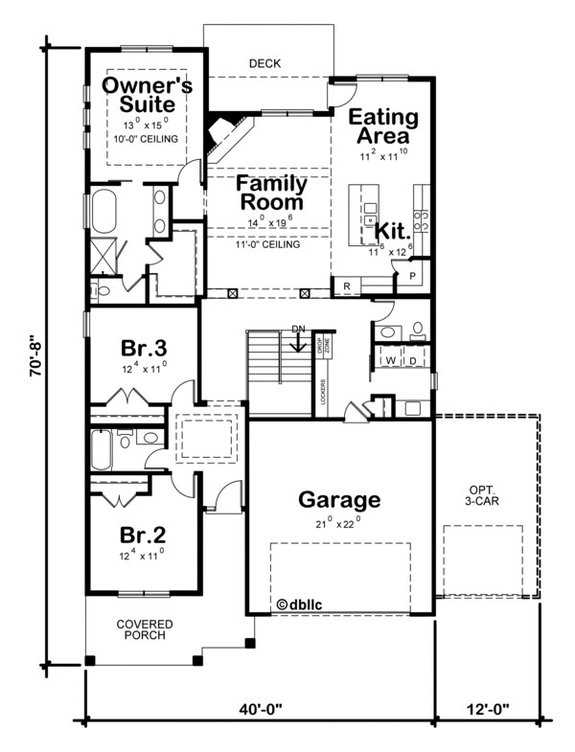 This cheery cottage (plan20-2299) offers a lived-in, cozy feel. An open floor plan promotes easy livability, while the master bedroom is located at the back of the house for added privacy. The covered front porch and rear deck lend more square footage and makes for relaxing evenings.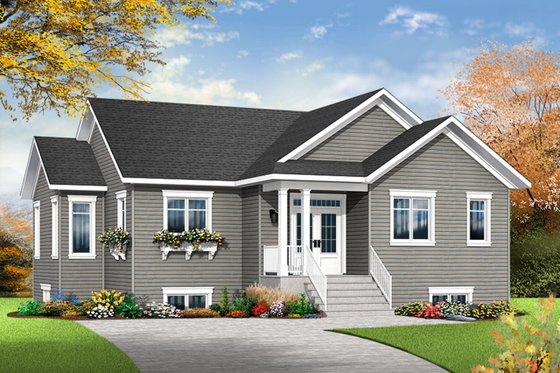 Plan 23-2614 (above) is all about convenience and relaxation. The open layout between the main living areas and smart features (such as the large kitchen island and split bedroom design) make everyday life easier for busy homeowners.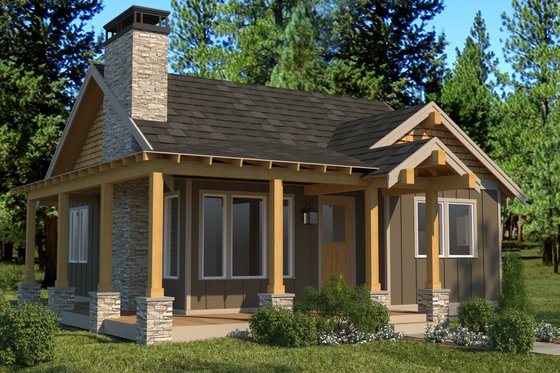 This adorable cottage house design (plan895-91) is both compact and spacious at just 824 square feet. A simple front porch greets guests, while adding more outdoor living, dining (just add cute table and chairs), and entertaining space. Inside, an easygoing layout allows the interior to feel breezy, bright, and larger than it actually is.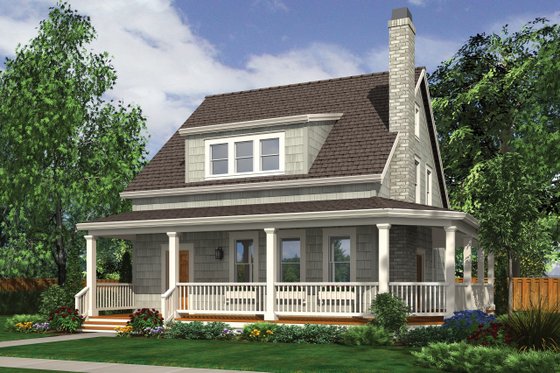 The vast wraparound front porch is a major highlight of this home design (48-572) and is the perfect location for evening porch hangs. Double-hung windows add character and plenty of natural light.
Inside, a modern (and open) interior provides convenience and casual living space. Warm up in the living room by the cozy fireplace or kick back and relax in the sizable media room. Store everyday items such as backpacks, keys, coats, and shoes, in the mudroom just off the back porch.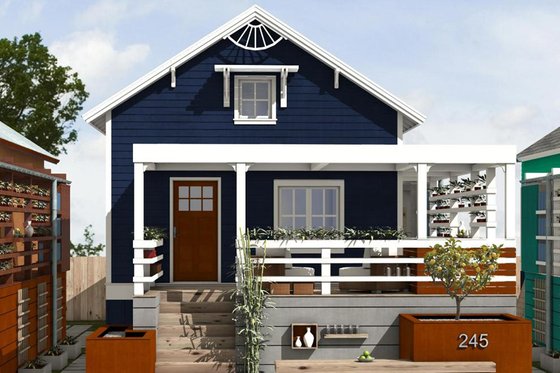 This two bed, two bath cottage (plan497-23) clocks in just under 900 square-feet of good ol' charm. Homeowners will swoon over the wraparound front porch and relaxed (and open) layout that's designed to make great use of the limited space in this home design.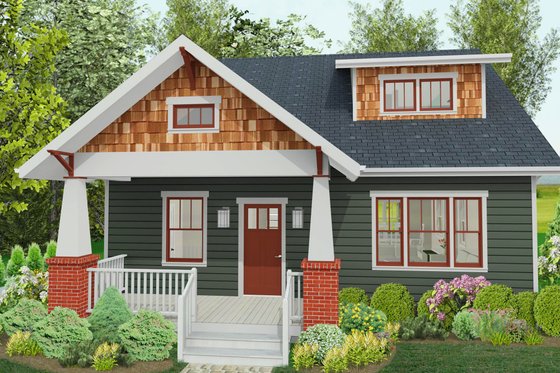 Plan461-51(above) is all about convenience and relaxation. The open layout between the main living areas and smart features (such as the mudroom and large kitchen island) make everyday life easier for busy homeowners.
A vast rear deck and wide front porch deliver a relaxed attitude and make outdoor entertaining a breeze. Bring on the porch hangs!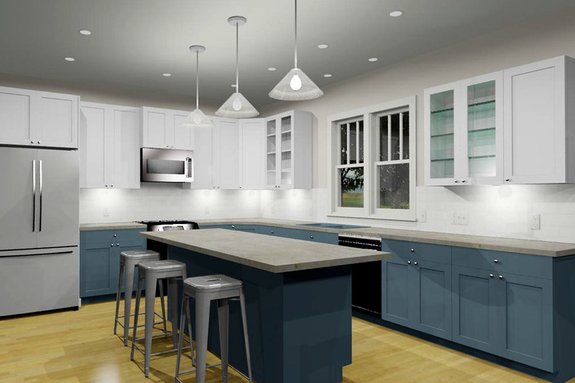 A spacious and stylish kitchen(above) make this home fit for the modern family and adds contemporary touches.
Every inch is put to good use in this cozy beach style cottage(plan). From the two-story family room to the open kitchen and dining areas, this plan is jam-packed with perfectly planned living spaces.
Wrapped with porches (including a screened porch just off the master suite on the second level) and decks, homeowners have the added luxury of capturing scenic views and breezes (dreamy!).
Classic and contemporary, this cottage style plan (20-2302) boasts a family-friendly layout and exudes comfort and relaxation. A three-car garage provides extra storage, while a rear covered porch is designed for casual outdoor entertaining.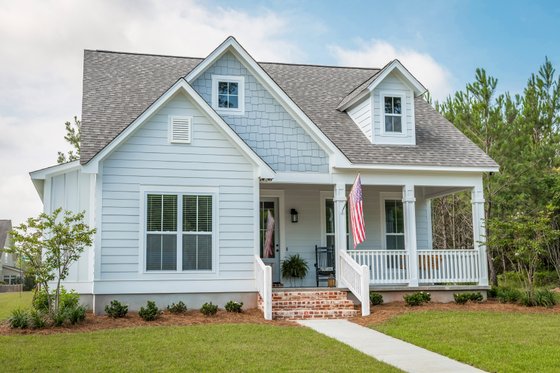 Brimming with character and charm, this cottage (430-145) is extra-inviting and loaded with features and style. Highlights we love include a luxurious master suite, oversized closet, mudroom entry (with lockers!), a large walk-in pantry, and major curb appeal.
Relax and entertain in the open floor plan that encourages functional living with a splash of style. With both front and rear covered porches, this design fosters community and is great for entertaining family and friends.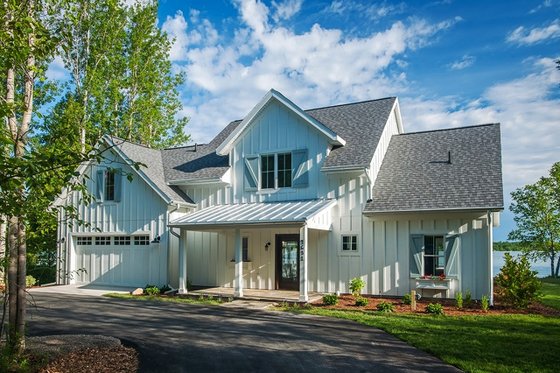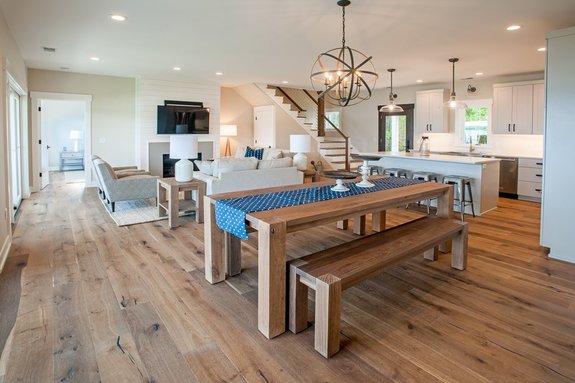 Perfect for those who love to entertain, this plan (901-132) gives you all the options. A welcoming front porch brings you into a stunning living, dining, and open kitchen area which all open to a rear covered porch (above).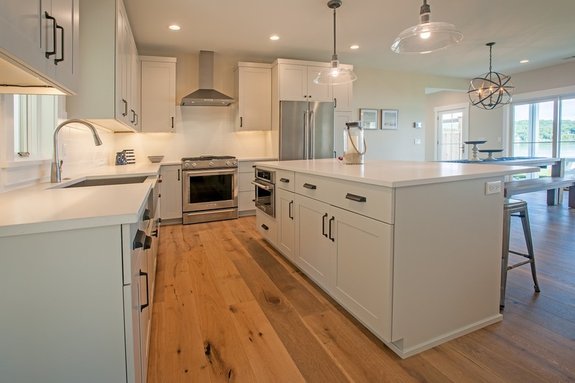 Bright and white, this modern kitchen (above) features a sizable kitchen island and plenty of counter space for cooking up some yummy meals. Conveniently located on the main floor, the master suite offers homeowners extra privacy.
The second level offers two additional bedrooms that share a bath and an open loft area (above) that could be used as a home office, playroom, media room, bunk room, craft area, etc.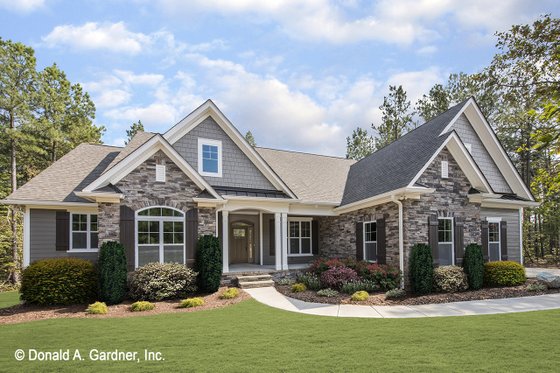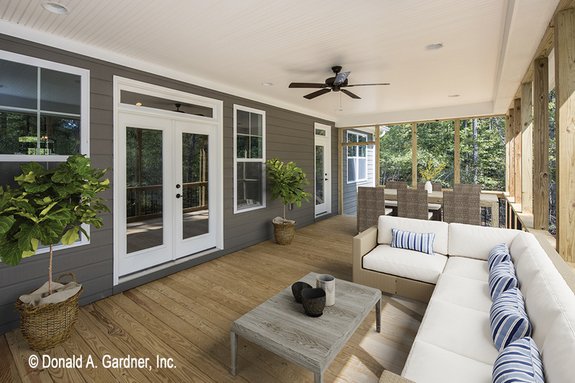 Stone accents, decorative shutters, and a picturesque central entry porch are just a few of the details you'll love in this handsome cottage design (plan929-9). The broad screened porch at the back of the plan (above) enjoys a full view of the open great room and breakfast nook, while featuring an outdoor dining space on one end of the porch and a lounging area that can be enjoyed year-round on the other.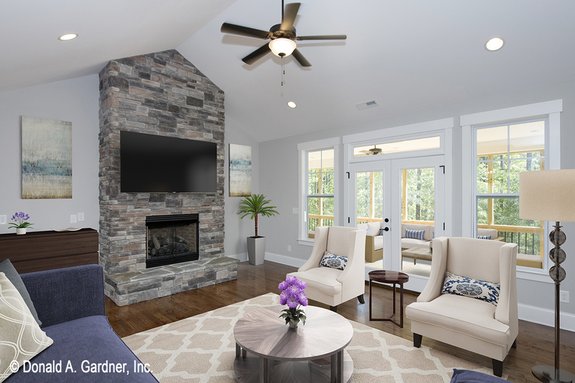 Cathedral ceilings and windows allow the great room to feel open, airy, and bigger than it actually is – making it the perfect gathering spot for family, friends, and guests!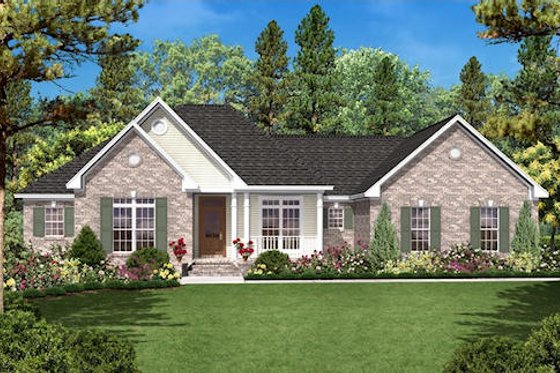 This is yet another tidy cottage (430-17) that we can't help but swoon over. Charming details like 10' ceilings throughout the first floor, a spacious front porch (hello curb appeal!), a gas fireplace in the great room, and a generous loft on the second level give this home grand appeal.
See more cottage style home designs.
Browse our contemporary cottage style home designs.
View our collection of plans with porches.