by Courtney Pittman
The farmhouse trend is one that's been around for hundreds of years and isn't going anywhere soon. With no shortage of curb appeal, these designs are simple, sleek, and stylish. Uncomplicated exteriors and open floor plans help streamline these homes and implement a modern touch. They are cozy without being fussy.
These easy, casual designs blend the best of old fashioned and modern styles. Let's look at some ways to achieve this charming look seamlessly.
The Front Porch
A proper front porch is a farmhouse must-have. In fact, these modern gems are defined by them.
Traditionally, verandas were used as an escape on sultry summer days (before air conditioners were a thing), but these days they administer charm and pizzazz to a home. Additionally, they also serve as practical outdoor gathering spaces. Wine night on the porch? I think so!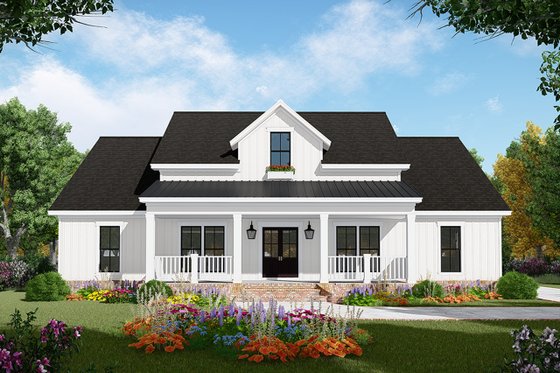 Plan 21-442 (above) features a welcoming front porch with columns and quartered windows (with black window trim). Together, these deliver a sleek, homey feel. Complete this look with barn-style lanterns.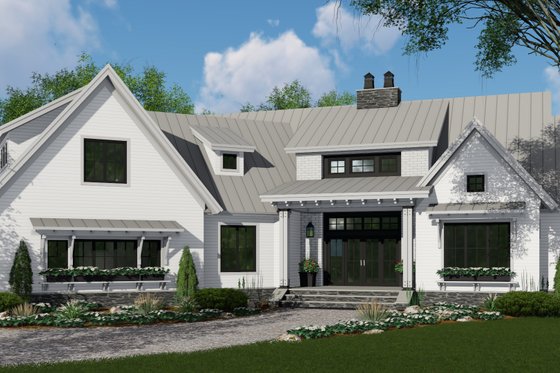 Although modest in size, the front porch in plan 51-1135 (above) is still full of vintage charm with French doors and quartered windows – helping the home feel light and open. White-washed brick helps execute a contemporary approach to this design.
The Roof
Whether it's a gable (easily characterized by its triangular shape) or shed-style (single sloping), the roof has long been an essential component of farmhouse design.
Metal is a popular material when it comes to farm-inspired roofs. Whether you're snowed-in in the North or experiencing a heat wave in the South, metal roofs are a durable and low maintenance choice in many environments. These lightweight, energy-efficient, and easy-to-install roofs will add years to your home.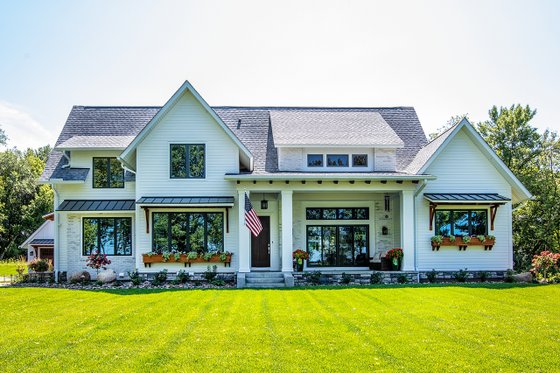 With a mixture of gable and shed-style roof planes, plan 51-1132(above) is a prime example of the modern farmhouse design. The use of metal provides sleek lines, administering a contemporary touch.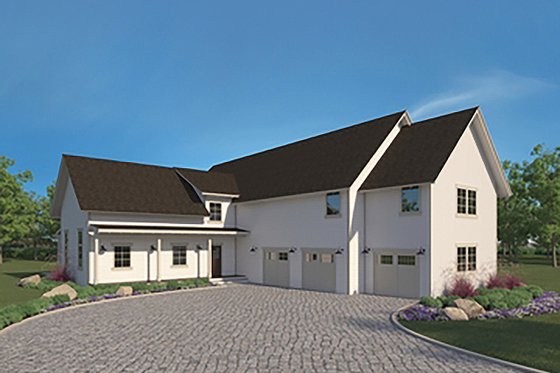 This eye-catching farmhouse design (plan 1068-2, above) features a cross-gabled roofline. A modest shed dormer resides atop the porch, lending a classic feel to the home.
Large Windows
Windows are the eyes to our homes. It's no wonder they're a big deal for modern farmhouses. Large windows invite natural light inside while also blurring the lines between indoor and outdoor living.
Quartered windows are a common feature in modern farmhouses. These windows paired with black window trim, such as the ones in plan 21-443 (above), grant loads of charm, contributing to this classic farm look. Wrap this design up with dormer windows and flower boxes and you've got yourself a quintessential farmhouse!
The Use of Wood
Farmhouses were often originally built out of wood because that was simply the material available to the builders at the time. While construction and building techniques have improved over time, the use of wood in today's housing market is still a great option. Wood is generally cheaper, easier to work with, and also renewable.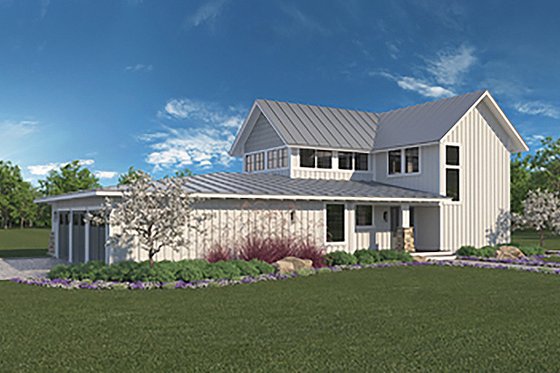 With board-and-batten siding on the exterior (a staple farm look) and a cross-gabled roof, plan 1068-1 (above) gracefully achieves the farmhouse look.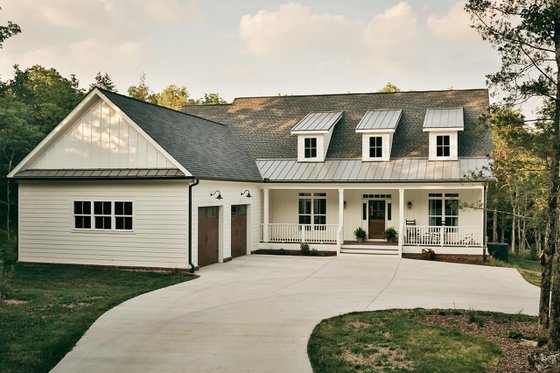 Plan 17-2148 (above) also features white board-and-batten siding on the front porch. Barn lighting, large quartered windows, plants, tin pots, and rocking chairs are easygoing additions to this space.
Color Palette
Classic, yet clean and contemporary – the farmhouse look is all about a simple and neutral color palette. White-washed wood (or brick) is a common paint color used on the exterior of these homes and renders an old-fashioned facade.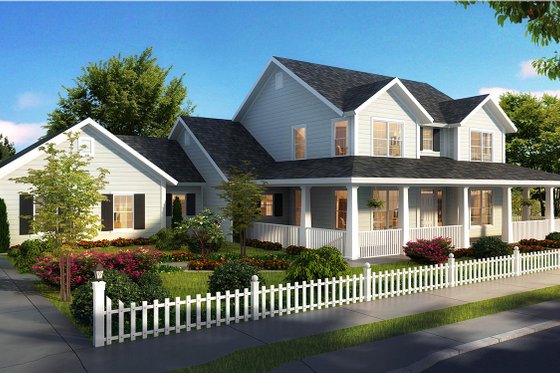 Take a look at the exterior of plan 513-2172 (above). The home feels classic and modern with white wood details. A large wraparound porch and gable dormers deliver a cozy, relaxed touch. All that's missing is friends and family!
Interior Must-Haves
The first step in achieving a modern farmhouse look is using a neutral color scheme (such as whites, pastels, and light grays). Clean and inviting, these tones will help your home feel bright and airy. Bring depth to a room by adding texture to the walls – hello, shiplap!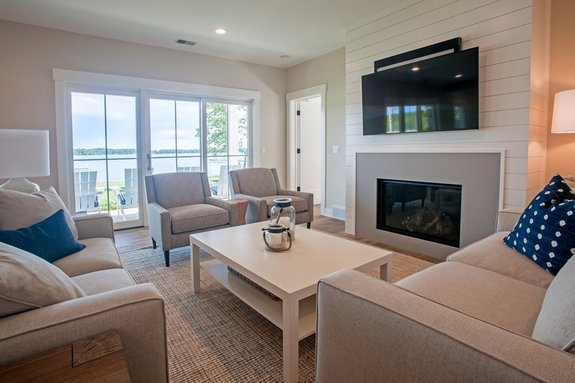 Check out the shiplap in plan 901-132(above). Even just adding a small amount around the fireplace grants this home tons of charm.
Furthermore, wood-beamed ceilings are an architectural detail that can help the home feel tangible and lived-in. This classic look also gives the illusion that your room is larger than it actually is. On the other hand, wood beams have the ability to highlight a generously sized space.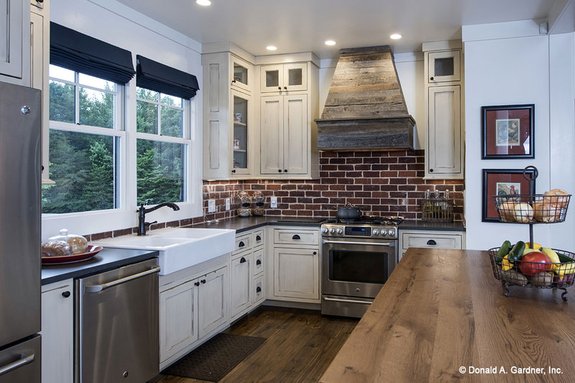 Another way to achieve the farmhouse style in your home is exposed brick. The use of brick in plan 929-8 (above) is an excellent design trick that brings some edge to this farm kitchen. Pairing it with gallery and shaker-style cabinets, a distressed wood hood range, and a farm sink, brings some flair to this space.
To explore our Farmhouse click here.
To browseWrap Around Porch click here.