By Gabby Torrenti
This collection of house plans combines the allure of a spacious open floor plan with the convenience of ranch living. Easy to navigate and amenity-filled, these plans feature open concept kitchens, expansive living areas, and features like vaulted ceilings that make these one-story plans feel grand. From modern farmhouses to contemporary picks, this collection offers something for everyone pining for a wide-open ranch. Take a look at some of our favorite plans with streamlined layouts and expansive living spaces.
One Story Farmhouse with Luxe Living Spaces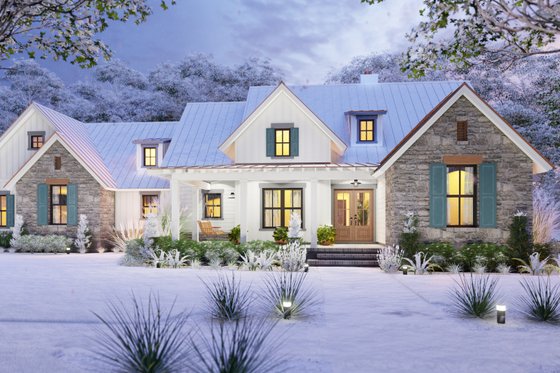 Plan 120-270
This one-story plan is beautiful from the outside, but truly shines from the inside. Featuring a seamless kitchen-to-living flow and vaulted ceilings, this ranch feels luxurious and modern. Beyond the kitchen is a spacious pantry, easily accessible from the two-car garage and convenient for unloading groceries. Additional features include a cozy study, walk-in closets, and a lanai, accessible from both the main living area and master bedroom. This plan makes one-story living feel grand!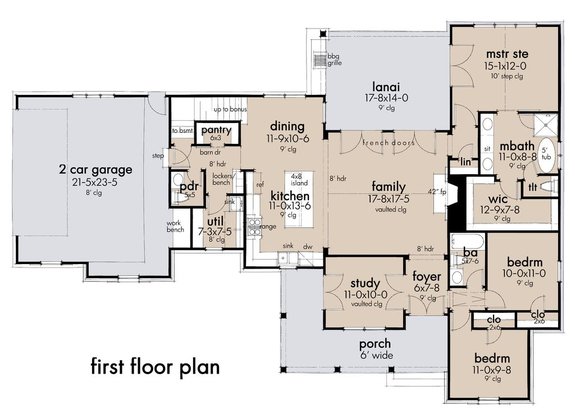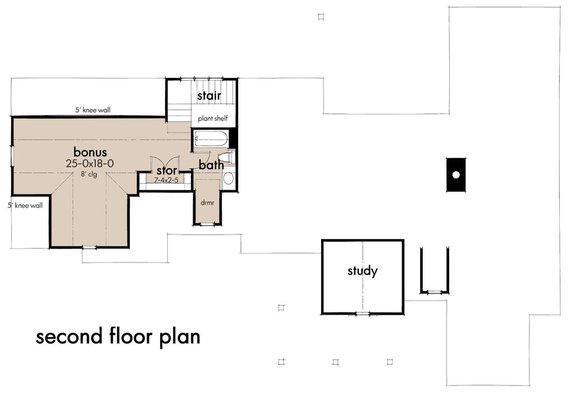 Take a look at these stylish pantries from House Beautiful
Contemporary Ranch with a Cozy Great Room
Plan 48-944
Beyond this plan's rustic front porch lays a cozy open living space, with plenty of room for entertaining and relaxing. Vaulted ceilings and a fireplace make the great room feel spacious and welcoming, with large windows letting afternoon light fill the room. Including a large kitchen island, open dining room, and an outdoor living space with a barbecue station, this plan is fantastic for spending time with loved ones close by.
Three bedrooms and a master suite with vaulted ceilings provide cozy sanctuaries for winding down, while ample closet space makes it easy to store belongings within reach.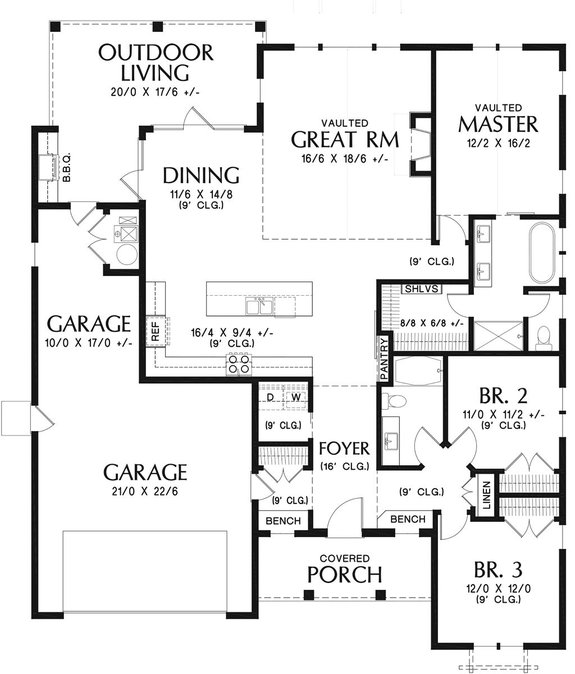 Sleek, Modern Ranch with a Spacious Deck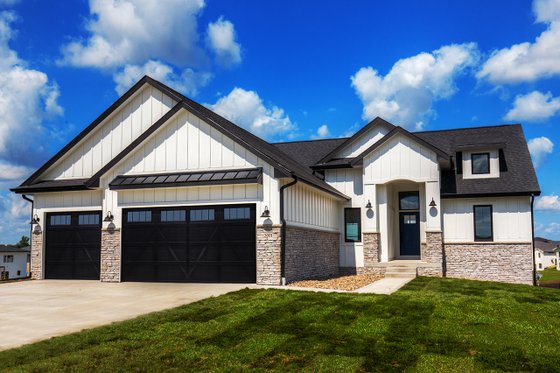 Plan 70-1477
This modern, one-story home features beautiful external stonework and a large three-car garage, opening up to a spacious internal floorplan. The large kitchen features an island with a double sink and a hidden pantry, which are ideal for entertaining. This impressive kitchen leads into the sleek great room. A fireplace creates an interesting focal point.
Details like dual sinks in the master bathroom and a pocket door (or a barn door as shown in the photos) are luxe elements that make this plan feel truly special. Step out onto the plan's large deck to enjoy outdoor living at its finest.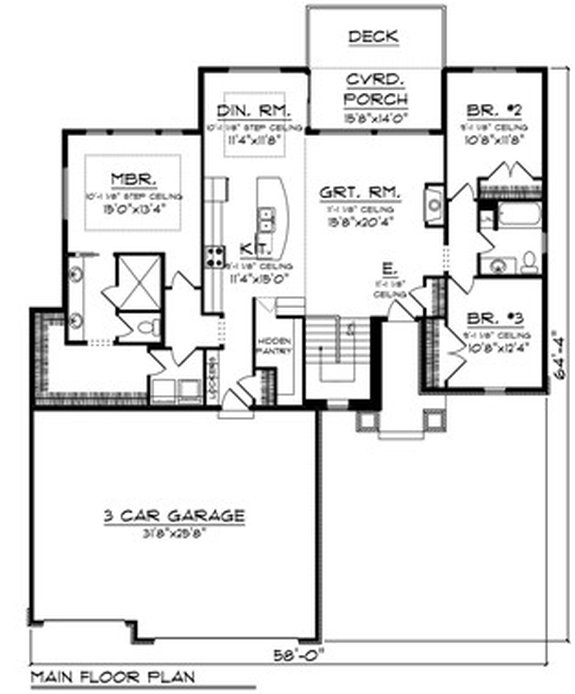 Take a look at these deck design ideas from HGTV
Spacious One-Story Farmhouse with Versatile Bonus Space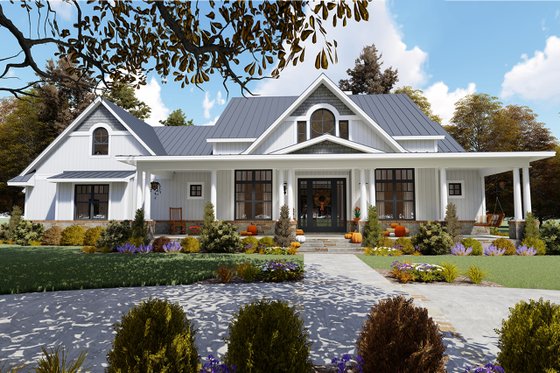 Plan 120-257
This one-story plan includes an open kitchen and large family room, as well as a large main pantry with an attached butler's pantry. Walk-in closets and a powder room off the study are just two of the multiple features that make living in this space comfortable and convenient.
Family-friendly and easy to navigate, this plan makes it simple to both entertain and conduct daily business. Those working from home will revel in the bonus space, which can be finished to become a home office or e-learning area. When the day is done, relax on the expansive lanai with an attached barbecue station for warm-weather fun.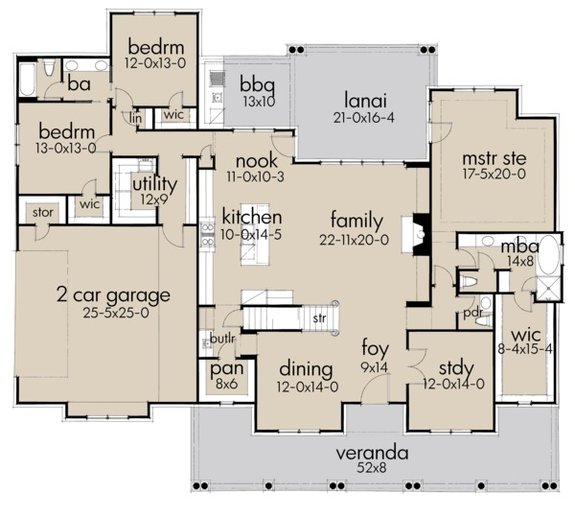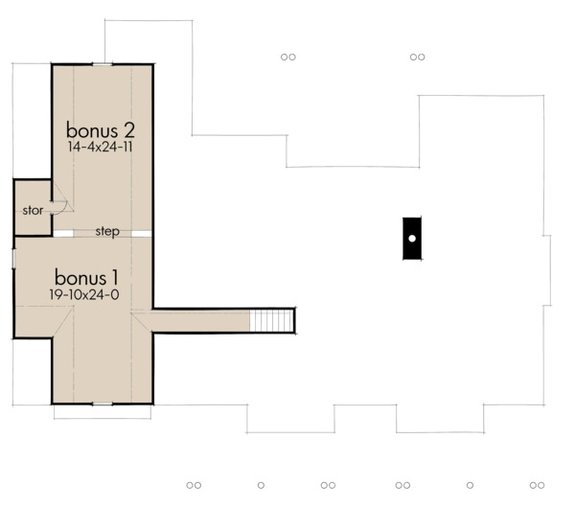 Expansive Ranch with Lots of Amenities
Plan 430-190
This ranch plan is truly special, as it provides all the features you can possibly want on one convenient floor. Drop your shoes in the mudroom and enter the large, open kitchen, leading into the luxurious great room and dining space. Further into the house is a game room, which is appropriately situated alongside the e-room.
Beyond the ample leisure spaces lay four large bedrooms, each with their own unique amenities. The master suite is secluded from the additional bedrooms, allowing privacy while children or guests stay on the opposite side of the house. A dual-entrance shower in the master bathroom and hidden storage are unique touches, adding to the overall convenience of this plan.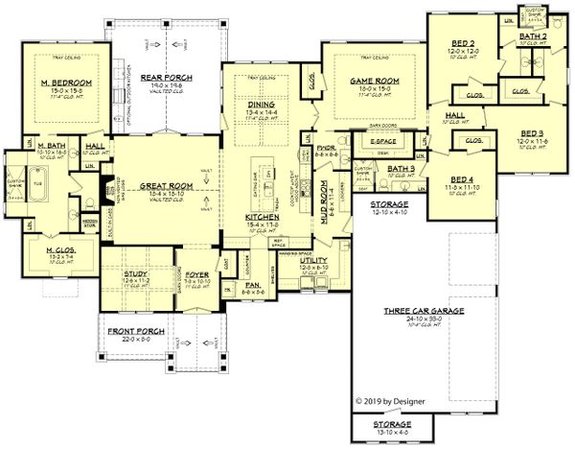 Versatile Ranch with Open Living Space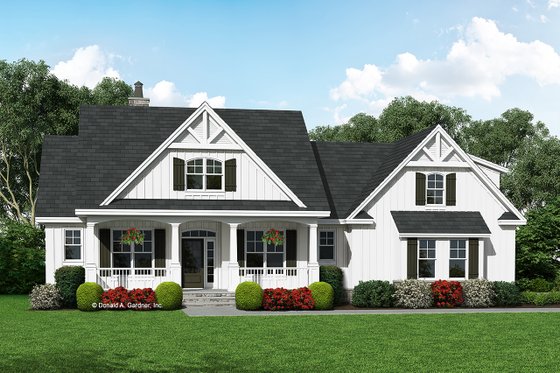 Plan 929-1055
This classic farmhouse with an open plan is ideal for buyers in all stages of life: a couple just starting out, an older buyer paring down and simplifying, or a family who wants a chic and affordable home. Beyond the welcoming front porch is a large kitchen with an adorable breakfast nook, opening into the vaulted great room. Step onto the large back porch and descend toward a patio great for entertaining.
The master bedroom is separate from the guest rooms, lending privacy and space to relax. Dual sinks in the master bathroom and a separate bathtub and shower allow this small plan to become your own personal oasis.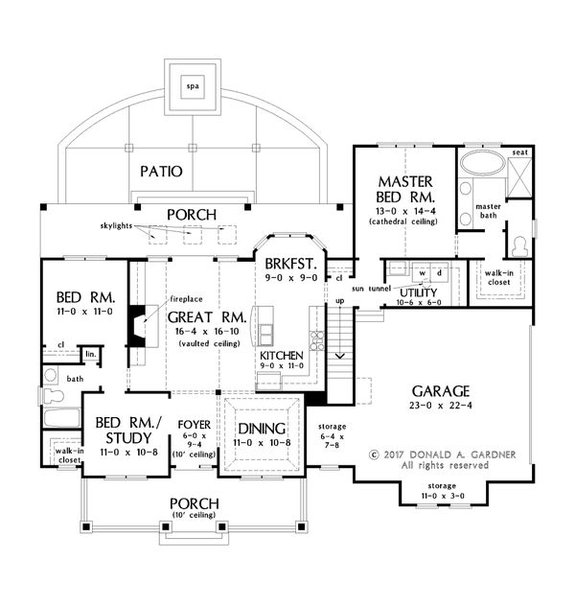 Spacious Ranch with Plenty of Storage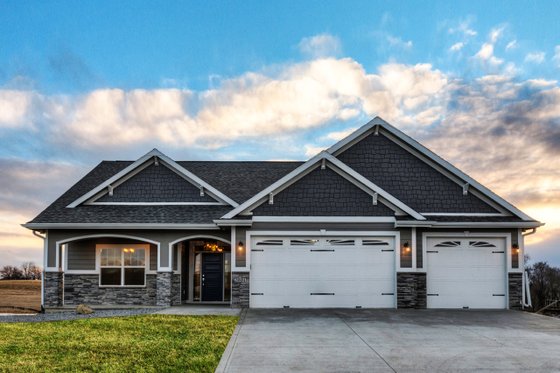 Plan 70-1485
This ranch plan features a three car, front-facing garage with extra space for storing sports equipment or holiday decorations. Step inside to the convenient mudroom with direct access to the home's spacious kitchen. The kitchen opens to a grand main living space, bordering a dining room for entertaining or enjoying a meal with family. Right outside is a large elevated deck with plenty of room for outdoor grilling or dining with guests.
The master suite is secluded from the home and features dual sinks, as well as a separate toilet closet for ultimate privacy. On the opposite side of the home, guests or children can retreat to spacious rooms with attached closets.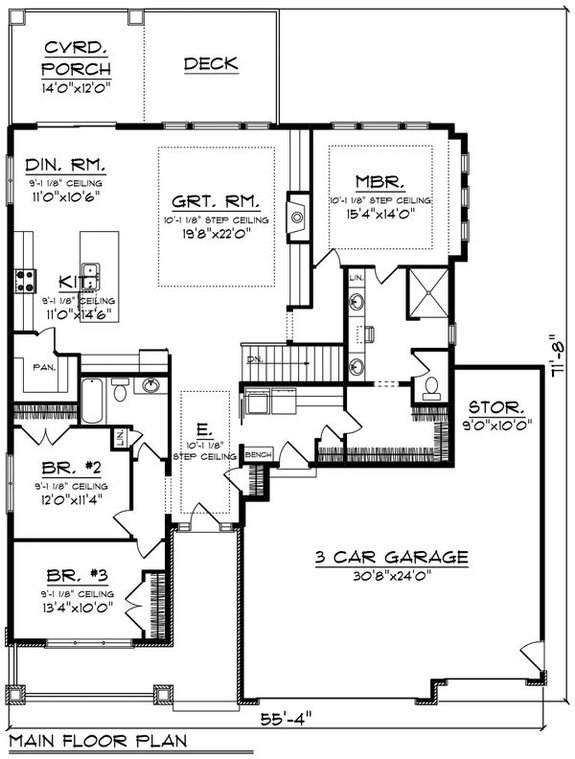 Contemporary Ranch with Flexible Bonus Space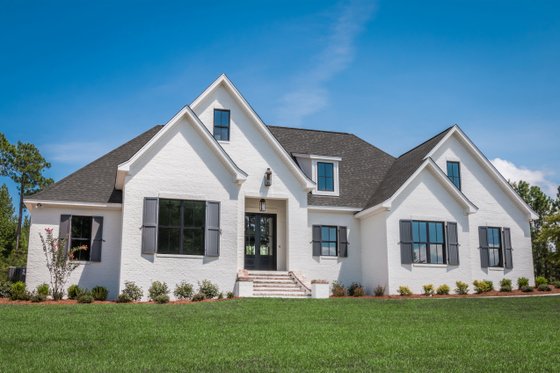 Plan 430-169
This four-bedroom ranch is a great pick for anyone looking for plenty of space in a convenient layout. The expansive kitchen and great room are terrific for entertaining, with easy access to the large rear porch. The stars of this plan, though, are the bonus room over the garage and separate master suite with its own walk-in closet and custom shower. These additions make this plan feel even larger than it is, all contained on one easy-to-navigate floor.
Spacious Ranch with Lots of Room for Guests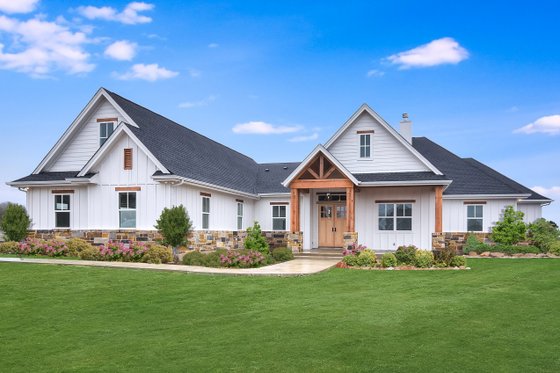 Plan 430-179
After stepping under its unique truss, enter this ranch home with lots of unique details. This plan's wide-open kitchen is ideal for entertaining, with plenty of amenities if your guests choose to spend the night. With five bedrooms and three-and-a-half bathrooms, guests have space of their own, separate from the expansive master suite on the opposite side of the house.
Move the party outdoors with a seamless indoor to outdoor flow, as the great room opens onto the large rear porch. The second-level bonus room is the perfect space for a bedroom or home office, just adding to the features of this plan. Convenience is an added perk of the home, as the laundry room connects directly to the mudroom.