By Courtney Pittman
Design trends come and go, but in the Lone Star State, an optimal outdoor living space has always been a paramount feature when it comes to Texas Homes. With wide open spaces, rolling hills, warm summer nights, and mild winters, it's no wonder people in Texas desire to be outside year-round. Although verandas and decks have long been a hot commodity in Texas, the concept of indoor-outdoor living has taken on a whole new meaning. We asked some experts in the Lone Star State about building a dream outdoor-living space in Texas – and what to take into consideration.
Dos and Don'ts
When we asked Janet Hobbs, of Hobbs' Ink, LLC (one of Homeplans.com's fabulous home designers and a Certified Professional Building Designer in Austin), what outdoor living trends do and don't work for homes in Texas, she delivered valuable advice.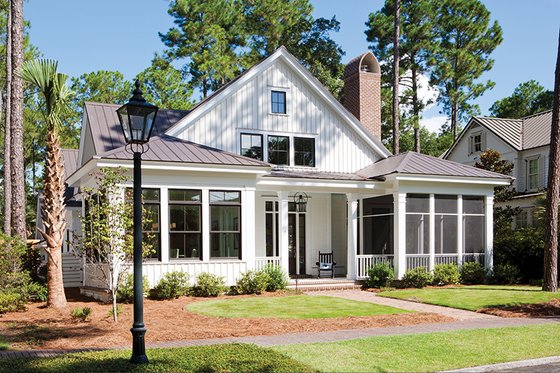 Do: Screened Porches
"Screened porches! Screened porches are, by far, the best new 'old' idea out there right now," Hobbs declares. While porches are wonderful assets to a home, in Texas, a screened porch comes in extra-handy due to the unpredictable spring weather and bugs.
"For those of us who don't think it's environmentally responsible to spray for mosquitoes and flies continually, a screened porch is the best way to have a happy outdoor living or dining experience. I often say that my favorite 'room' in a house we've worked on is not a room at all, but a screened porch," Hobbs adds, while pointing out a plan she loves, 928-251 (above).
Architect Francois Levy, of Levy Kohlhaas Architecture in Austin, also adds that, "While summers here are hot, many winter days are mild, and of course much of spring and autumn are quite nice. With bugs, though, especially mosquitoes, screened porches are a great way to enjoy the outdoors and stay comfortable."
Do/Don't: Huge Walls of Sliding Doors
"We all love the 20' wide 10' tall doors that telescope back into a pocket in the wall. They so nicely frame views and blur the line between indoor living and outdoor living. I LOVE, LOVE, LOVE them. But, seriously, with heat, humidity and insects being what they are here, you won't open them more than a few times. You can accomplish a very similar look with a door of the same size where only the two center panels open, sliding out over the two outside panels. You have wonderful, floor to ceiling glass, but you don't need to devote 5' or more of blank wall to the pocket for the doors to retract into," says Hobbs.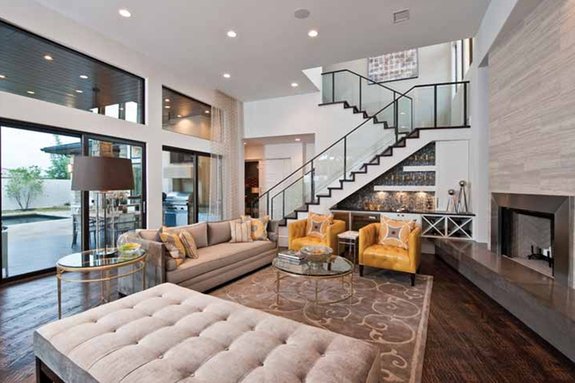 Plan 935-5 (designed by Hobbs) provides large (but manageable) doors out to the side courtyard.
Don't: Facing Directly West
Warns Hobbs: "The MOST important thing to keep in mind when planning a home in Texas is orientation to the sun. If your outdoor living area faces west it will be absolutely unusable at the time of day when you most want to be enjoying it - late afternoon to early evening. Get your sunset views when you go to the beach; be comfortable at home."
Windows and Doors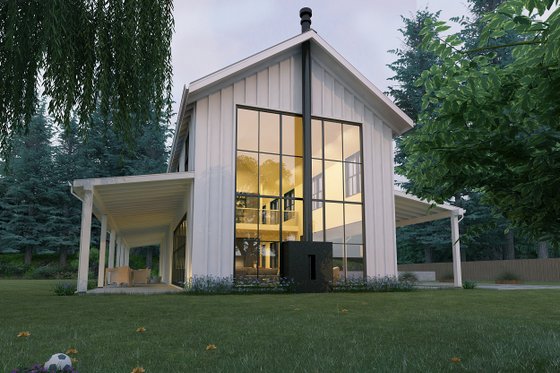 If you would rather dedicate more square footage to the interior of your home but still wish to experience the outdoors, abundant windows and doors offer the bright solution. With ample views (like those in plan 888-15 above), you are able to capture the appeal of being outside while still savoring that one thing Texans RELISH in the summer – air conditioning.
"We designer types have always wanted to blur the line between inside and outside. Now there is nothing stopping us. We have the technology to do it really, really effectively. It can be done with door units or with steel windows or with storefront type glass installations," says Hobbs, who also adds that, "Steel windows and doors are on all the internet sources clients are looking at these days. They are slim profile and very attractive."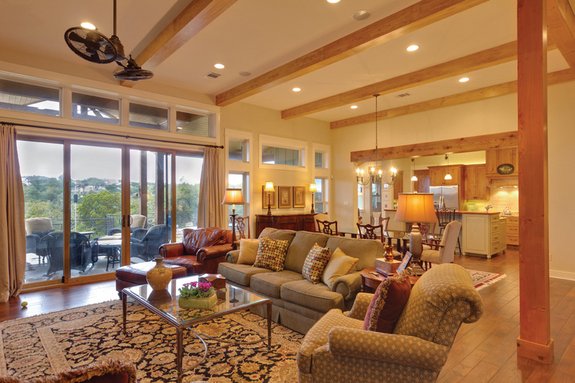 With a substantial number of windows, plan 935-6above presents an excellent example of erasing the barrier between indoor/outdoor living spaces. With nearly floor-to-ceiling sliding doors, this is done effectively in the great room, allowing it to feel both open and connected to the back patio. Best of both worlds!
Avoiding Insects on Patios and Porches
Everything is bigger in Texas, including patios. Regardless of the bugs and heat, Texans are resilient and revel in their porch-sitting. Don't fancy the heat and bugs? No problem! François Levy shared some simple tips on how to avoid them.
"Deciduous trees are great for overhead sun, and as they lose leaves in winter the outdoor space can serve in cooler months. Early morning and late afternoon sun are lower in the sky, so hedges or trellises to the east or west are better for morning/afternoon shading," he asserts, while adding one last point, "Finally, assess installing a fountain of some sort. Even a small bubbling water feature can add coolness to an outdoor area; just make sure you don't introduce still water to breed mosquitoes."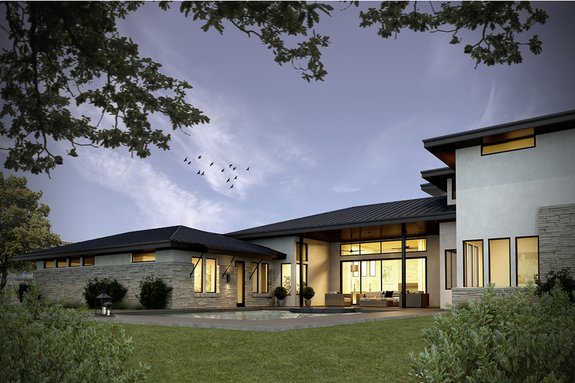 A generous courtyard in plan 935-14 (above) creates an intimate setting while also lending a cooling effect to the space. Jazz it up with some plants and lights and you've got yourself a whimsical outdoor living room.
Outdoor Kitchens
Let's get real: if you want a legit Texas-sized patio or porch, you need an outdoor kitchen. Texans may be fond of porch-sitting, but they appreciate their barbecues even more. We asked architect David Wiggins of David E. Wiggins, PLLC, for his expertise when it comes to building an outdoor kitchen in Texas.
As mentioned before, the heat in Texas is brutal. There are ways to escape the torrid sun and still utilize your chef skills. "When building a summer kitchen in Texas it's important to consider shade as it gets hot - hot. Getting good ventilation and taking advantage of breezes or even supplementing with fans/misting systems is required. These spaces need to also be designed to flow as part of the overall space, especially when it comes to entertaining," says Wiggins.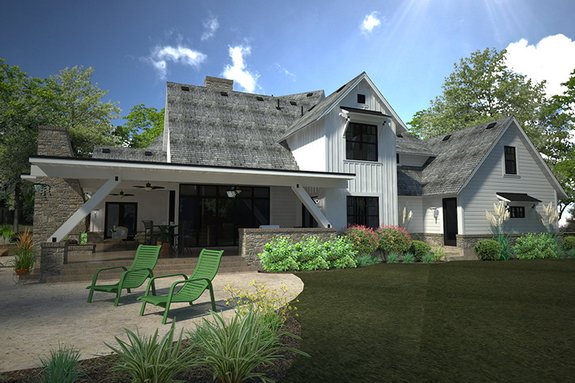 Take a look at this modern farmhouse design, plan 120-250 above. It includes two patio areas on the back lanai, one with an outdoor kitchen. The way these spaces are situated creates a natural breezeway.
Another thing to keep in mind when building an outdoor kitchen are the materials. "Choice of materials surrounding the kitchen is important. You want something that can weather the elements and you want to consider how you will be able to use your space in those elements at any given time of year," states Wiggins.
Fire Features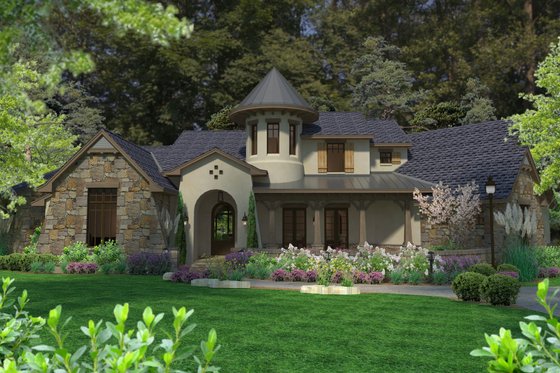 Texas summers may be toasty, and though the winters are mostly mild, they can still be frigid at times. What better way to take joy in your outdoor living area in the winter months than with a fire? David Wiggins agrees: "Fire features are awesome, they can turn a cold patio into an enjoyable gathering place."
Plan 120-185 above includes a fantastic dual stone fireplace that opens to both outdoor spaces. This allows for plentiful entertaining space and warmth. Even if a fireplace isn't practical for you it will "add a nice architectural element even if not used much," Wiggins insists.
See more Patios and Courtyard to find your perfect Texas dream home.