Home plans with porches offer outdoor living and curb appeal
By Courtney Pittman
Porchesbring more to the table than just charisma and curb appeal, especially on Country with wide front porches. Sure, they're beautiful and charming, but also quite practical. Although porches were originally designed as a reprieve from the heat before air-conditioners were invented, we just can't seem to get enough of their charm and functionality today. In our modern world, a front porch is an old-fashioned addition that allows homeowners to feel connected to their friends and neighbors. Maybe this is why they never really went out of style and continue to grow in popularity. Let's take a look at some country plans that feature dazzling porches and see what they have to offer.
Many savor the easygoing, homey feel that porches provide. Whether they are front, back, screened-in, or wraparound, they have one thing in common - RELAXATION. And let's get real, who doesn't need a little R and R from time to time?
Plan 929-807(above) features an alluring front porch that creates a welcoming entrance for guests. With two fans on either end, it's sure to keep the heat (and bugs!) at bay on those sweltering summer nights. Although this porch does not fully wrap around the side, it connects to the laundry room (making it convenient to leash up your dog and go for a walk without going through the front door) and also to the two-car garage.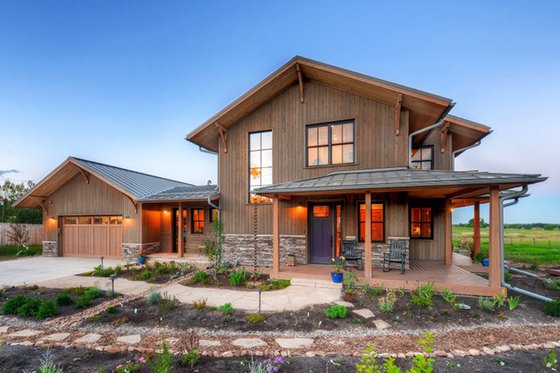 With verandas stretching around three sides of the home, plan 1042-18 incorporates a generous amount of space for tables, chairs, and swings. This design really embraces indoor-outdoor living, with a wall of sliding doors leading from the great room to the enormous back porch (allowing the home to feel larger than it actually is). Deliver some pizzazz to this look by adding a grill, outdoor dining table, and some colorful plants - but watch out, your guests may never leave!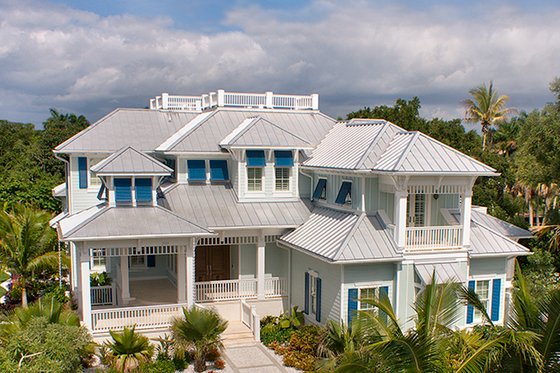 Outdoor living and entertaining are clearly a top priority in plan 1017-157above. Begging for attention, the back lanai opens to almost every room on the main floor, allowing homeowners to cherish the great outdoors effortlessly. The stunning front porch features an extended gazebo-like space, while the back includes a cabana for the pool, a restroom/shower area, an outdoor kitchen, and enough space for multiple seating arrangements. Even the upper level enjoys outdoor living, with two of the bedrooms opening to a back porch and the exercise room opening to another porch. When can we come over?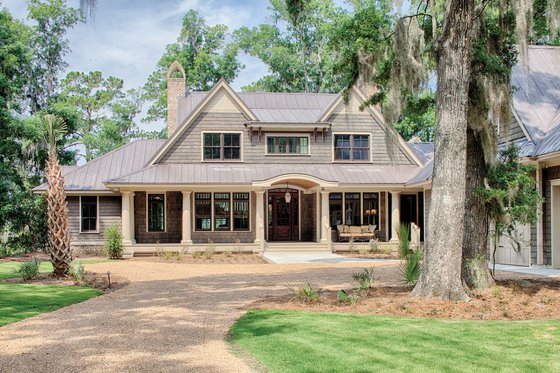 A welcoming front porch generates a wonderful first impression in plan 928-1 above. With a generous width and elegant columns, this porch creates a more striking appearance. Wide front steps create a stately entrance while a shed-roof and gables lend character to this country design.
Screened porches offer protection and sanctuary
Popular in the south, screened porches are a brilliant way to savor the calm breezes, birds chirping, and sunshine without having to put up with the unseemly side effects - such as mosquitoes and bugs (no thank you). Not only will screened porches shelter you from creepy crawlers, but they will also safeguard your outdoor furniture from bad weather and harsh sun rays. This grants you the ability to buy opulent pieces, creating a sanctuary for seamless entertaining.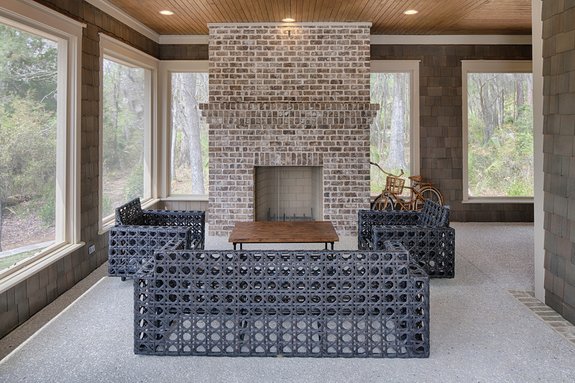 A handsome, and classic, brick fireplace not only lends a cozy, rustic touch, but also allows homeowners to delight in their outdoor retreat on both warm and cold nights. Charming and inviting, this space feels more like a second living room than a porch. Jazz it up with some radiant pillows, vivid plants, and sparkling lights.
This eye-catching home, plan 928-299 from Visbeen Architects, boasts a covered entrance that welcomes guests with a modest and cheerful veranda. Square columns, a bay window, a farm-style porch light, and plenty of seating all come together to make this porch tranquil and dreamy.
A porch is one of the first things people notice about a home
Not only does this charismatic home include a lovely front porch, it also yields a screened back porch for even more outdoor living space. Homeowners will revel in the added square footage it contributes to the home. The cathedral-like ceiling helps this area feel spacious - excellent for porch-sitting (as it is deemed in the south) on a midsummer's night with your favored cold beverage.
Maybe a porch represents a place for you to escape from your busy life and let time stand still - for a little while at least. Or maybe it is a way for you to extend your living space for entertaining family and friends. Either way, a porch is one of the first things people notice about a home. It is nostalgic and inviting, ready for you and loved ones to kick back and make memories.
See more Wrap Around Porch and Outdoor Living to find your outdoor paradise.